Automatic roll fed Film Laminating is a great way to protect a customer's work for the long term. Paper stock is enclosed between two sheets of clear plastic which are heat sealed with adhesive to preserve and protect printed material. There are many benefits and options with Laminating such as:
Available in Gloss and Matte finishes
Easily cleanable surface (protects work) supplied Clean and Flat in sealed cartons
Durable and waterproof
Superstick films formulated specifically for Digital Printing and higher adhesion for better quality and performance!
Nabs also stocks HP Indigo films in Gloss
Matte and soft touch.
Specifications:
Flush trim for work that is multi-up on a sheet such as 10 up business cards. Work is submitted as full sheets, laminated and cut to finish size.
Edge Seal sheets with a border around the work, sheets are submitted cut to size, laminated, and an excess of film is cut around the paper to leave a border (pouch lamination look) also called encapsulation.
Can auto feed sheets as wide as 25″ and as small as 5″ x 8″
Hand feed sizes as small as business cards (Edge seal available)
Stocks as light as 80# text and as heavy as 20 Pt. Board
Available in popular thicknesses such as 1.5Mil, 3Mil, 5Mil and 10Mil
Gloss/Matte finish
Soft Touch Film
Nabs also stocks HP Indigo Spec. films is gloss, Matt and soft touch.
Guidelines: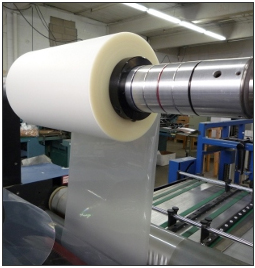 Roll for 1 side lamination are 11.75″ Width and Other sizes
One side laminating is available but must have .5″ minimum margins on all sides outside of the desired lamination area
All inks, toners, varnishes and aqueous coatings must be compatible, dry, and wax free
Superstick films are recommended for digitally printed material with high surface coverage or large image areas
Do not score before laminating, some text weight stocks may wrinkle
For specialty films, allow 3+ days for ordering/shipping
We can run test samples if there are questions about compatibility
Uses:
Menus
High use documents
POP displays
Medical application guides
Charts or posters
We can alsoWire-o Plastic coil, drill, punch, score/fold, and round corner your laminated work.
NEW !! Antimicrobial Protection
D&K's new antimicrobial overlams offer added protection against certain dangerous bacteria and other harmful microbes. These specialty treated products feature a durable antimicrobial coating that helps prevent the growth of some potentially harmful bacteria. Anti Microbial