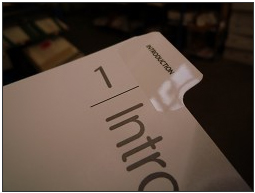 Index tabs are a simple yet highly effective way to organize printed material throughout a bound book. They provide an attractive presentation format that allows for quick file reference throughout any manual. NABS can provide index tab cutting and also apply Mylar laminating to tabs inline. Some benefits of our index tab cutting service are:
Custom tab sizes
Die cut index tabs only (no lamination), or Mylar laminate tab extensions in 16 possible colors (see chart)
Can cut tabs and bind in a variety of styles all under one roof
Can handle large variety of sheet sizes
No heated rollers, more compatible machinery for jobs with full body color

Specifications:
Maximum sheet size of 12″ x12″, minimum sheet size of 6″ x 8.5″
Sheet weights from 8 pt to 15 pt
Tab extensions:  "standard" and 3/8″ also available
Tab length: with Mylar  7/16″ to 5″, without Mylar  7/16″ to 6″
Lamination/Mylar length: 1″ to 5″
To avoid additional cutting charges from NABS, cut all stock to finished size allowing for tab size. For example: an 8.5″ sheet plus standard tab extension would need to be supplied as a 9″ x 11″ sheet. If there are any questions on the proper dimensions, call us for the correct size or allow us to do the cutting.Guidelines:
UV/Aqueous coated sheets cannot be Mylar laminated on tab extension. Though our equipment does not use heated rollers, it is recommended that wax free inks are used.
Keep in mind that sheets with large amounts of body printing can sometimes be troublesome; some jobs may need sample approval if there are issues.
If tab area is reversed – keep ink 1/8″ above tab extension to prevent the ink line from appearing on finished tab cut sheet.
Minimum of 50 extra per tab with a required 20 overs per 1,000 tabs .
We can also:
Laminate and die cut tabs with Matte finish laminate
Laminate and die cut tabs with printable Mylar
Collate, 3 hole drill, insert, bind or shrink wrap sets of tabs